Press Reports
Scientists from Peru visit the University of Wales, Bangor, to gain experience of ways to tackle mine pollution
Two Peruvian scientists, both based in Lima, are visited the Bangor Acidophile Research Team at the University of Wales, Bangor, between October 23 and November 4, 2006. Martha Ly works for Golder Associates Peru and deals with environmental issues connected with mining, while Milagros Quintana works at the Peruvian Institute of Nuclear Energy (IPEN) as a molecular biologist.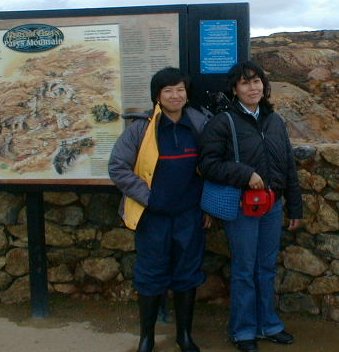 Metal mining is extremely important in Peru's economy. There are over 1000 gold and base metal mines in this country, and it is the leading gold producer in the whole of South America. As elsewhere in the world, mining can leave a lasting legacy of environmental damage and pollution. New technologies have been developed in recent years, many of them based on biological systems, that can be used as cost-effective means of treating polluted streams in mining areas and securing waste materials at abandoned mine sites. Researchers at BART have been investigating and developing these systems for the past 10 years, and have considerable experience that will hopefully be of use to the people of Peru as they tackle the problem of mine pollution.
During their stay, Ms. Ly (on left in the photo) and Ms. Quintana (on the right) have visited a large remediation project in Cornwall (at the former Wheal Jane tin mine), Mynydd Parys on Anglesey, and sites in the north-east of England where similar polluted waters draining abandoned coal mines is being treated.
Ms. Quintana will remain at the University until Christmas, 2006, where she will learn techniques in microbiology and molecular biology that have been developed by the UWB group, specifically for application in mine environments.
The host laboratory at UWB is headed by Dr.Barrie Johnson, a Royal Society Industrial Research Fellow and Reader in Environmental Biotechnology. Dr. Johnson's group collaborates with other teams throughout the world including China, South Africa, Australia and mainland Europe.
The visit of Ms. Ly and Ms. Quintana is sponsored by the International Atomic Energy Association (the IAEA, a branch of the United Nations). This is the third in a series of IAEA-sponsored interchange between UWB and their colleagues in Peru. Earlier this year, Dr. Johnson visited mine sites in the Andes to give advice on the application of "bioremediation", and in 2004 Dr. Hallberg (a research Fellow at UWB) and Dr. Johnson helped with a workshop in Lima, which was attended by about 60 scientists from Peru and Chile.